We have been often asked by many readers about the best places to find premium domain names for sale.
There are many domain name registrars on the market, each one of them try to sell you the best domain names.
However not all of them offer you the best tools to find the perfect domain name. Some even try their best to sell you lesser-known domain extensions at cheaper rates.
This makes it difficult for beginners to do their domain name research and find a brandable name for their business or blog.
In this article, we will share the best places to find domain name for sale including new, expired, and premium domain names. We'll also share expert tips on how to do due diligence when buying a premium domain name.
Domain Name Registrars
The first place to start your domain search is through a domain name registrar. These are the companies allowed by ICANN to sell domain names to the general public.
However, not all domain registrars are the same.
Some try to aggressively upsell other services that you may not need. Others try to lock you in by making it difficult to transfer your domain name.
Below our providers that we use and recommend.
Domain.com is the best domain name registrar on the market. It has a fast and simple domain search tool which helps you easily find a domain name available for sale.
They offer all top-level domain names, at very competitive pricing for newer domain names.
If you are looking for domain names on sale, then simply click on the premium domains tab to find unique, brandable, and shorter domain names.
Premium domain names are typically more expensive, but you get a better selection to choose from.
Domain.com makes it easier to manage your domains using a simpler domain management area. From there, you can point your domain name to any hosting company and start making a website.
Finding Premium Domain Names on Domain Marketplaces
Domain names are a lucrative business. You can think of it as real estate for the internet.
Thousands of people trade domain names every day which means that at any given time there are premium domain names on sale from domain investors.
You can find these domain names on domain marketplaces. This is where users can list their domain names for sale, allowing others to search, make an offer, or directly purchase the name at a premium price.
Sedo is one of the biggest domain marketplaces in the world. They provide a reliable and secure platform for domain owners to list their domain names for sale.
You will find a lot of premium domain names for sale there. Some of them have been used in the past, but most of them are never used to build a website.
Sedo is also an excellent platform to do your domain name research. You can find interesting ideas matching your keywords, which you can then use to find similar domain names at a regular price.
Flippa is the world's leading platform to sell online businesses, websites, and domain names. It is a marketplace where sellers list their domain names for sale. Most of them are premium domain names listed for auction or direct purchase.
You can watch domain names, follow auctions, or enter the auction by bidding on domain names.
If your bid is accepted, then you can follow the payment guidelines. Usually, sellers use Flippa's escrow service for secure payments and transfer of registration to the buyer.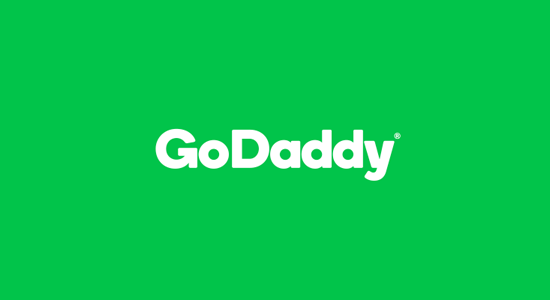 GoDaddy is the largest domain name registrar in the world. They manage millions of domain names for a very large number of customers around the world.
They offer domain research tools, domain name generator, domain broker service, and more. They also have their own premium domain marketplace with auctions.
However being a large business, they offer tons of other services and upsells which can be a bit overwhelming for beginners.
Many GoDaddy alternatives offer more focused, cheaper, and better services to compete which ultimately benefits the customers.
Finding Domain Names for Sale on Forums
There are thousands of online communities and forums where website owners can discuss online business ideas, marketing techniques, and building websites.
Some of these online communities focus solely on trading domain names, while others have dedicated sub-forums for the topic. Here are some of the online forums you can use to find domain names available for sale including expired domain names or soon to be expiring domain names.
NamePros is one of the leading online communities to buy and sell domain names. It is also a great place to learn about building online businesses, investing in domain names, and finding unique domain name ideas.
They have a dedicated domain marketplace section, where sellers can list their domain names on sale. Domains are listed as auctions, buy now, bargains, and make an offer.
DNForum is another popular online community to find unique domain names. The forum is used by both sellers and buyers to trade domains, run auctions, make offers, or request help from domain name brokers to find you a unique idea.
Get a Free Domain Name via Hosting
If you just want to register a new domain name for your business, then the easiest way to get a free domain name is by signing up for a website hosting account. This way you can save money on domain name registration and quickly make a website right away.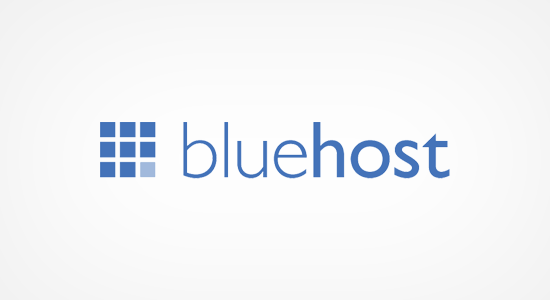 Bluehost is one of the largest hosting companies in the world and officially recommended hosting provider by WordPress and WooCommerce.
→ Click Here to Claim This Exclusive Bluehost Deal ←
How to Find a Great Domain Name for Sale
There are so many places where you can find domain names available for sale. However, it is a highly competitive business and if you are not careful, then you could end up paying a lot more for a domain name.
First, we recommend you to find a unique domain name idea by yourself. Use the domain availability checker tool on Domain.com to see if your desired name is available for registration.
This way, you would be able to find a domain name on a regular price which could be between $10-14.99 per year.
See our guide on how to find a domain name for some tips on coming up with catchy ideas for your domain.
Finding a Premium Domain Name for Sale
Finding a domain name can be hard. You may feel that all good domain name ideas are already taken.
However, if you are willing to invest in buying a shorter, more brandable, and clever domain name, then domain marketplaces can be a good resource.
This helps you narrow down your search and get a domain name that is not available for registration.
We recommend using platforms like Sedo and Flippa to find unique premium domain names on sale. These platforms offer better tools for secure transfer of domain ownership, better tools to asses seller's reputation, and are trusted by legit businesses all over the world.
How to do Due Diligence When Buying a Premium Domain on Sale
After you have found a unique domain name that you want to buy, it is time to do some due diligence before moving forward.
Domain names that have already been used could be blacklisted, marked for spam, or have a bad reputation. Buying such a domain name could affect your business.
Luckily there are tools that you can use to do your homework before making the purchase.
First, you would want to make sure that the domain name is not a registered trademark of an existing business.
According to ICANN rules, if a domain name violates a company's registered trademark, then that company can claim the domain name or ask you to take it down.
You can check the United States Patent and Trademark Office's database to do a quick trademark search for your domain name to see it is already registered by a business.
Next, you would want to see if a domain name has been previously used to make a website. An easy way to do this is by using the Wayback Machine. This massive archive crawls the internet and takes snapshots of websites.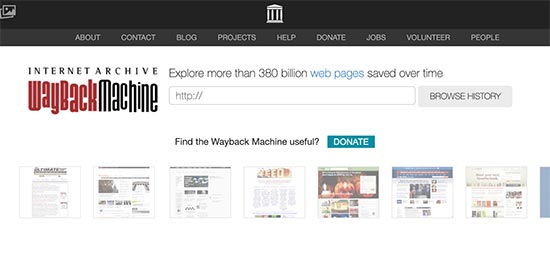 You would also want to search a domain name's historical records using the Whois tools. This allows you to see when a domain name was created, last renewed, DNS changes, and historical data.
Lastly, you would want to check if a domain name has been misused to send spam email, spread malware, or other malicious activities. You can perform a quick domain health check test to see if it raises any red flags.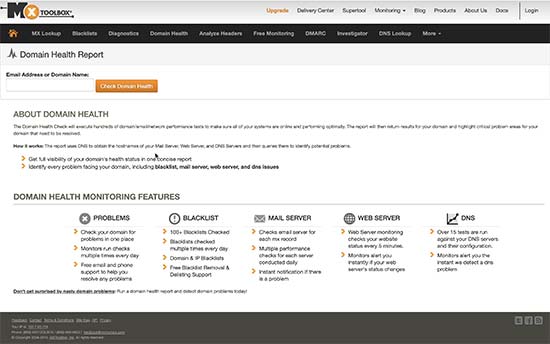 We hope this article helped you find the best places to find domain name for sale. You may also want to see our pick of the best business phone services and the best email marketing services that you can use to grow your business.
If you liked this article, then please subscribe to our YouTube Channel for WordPress video tutorials. You can also find us on Twitter and Facebook.